TIRED OF BLOWING ENTIRE WEEKENDS CLEANING UP YARD DEBRIS?

Take back your weekends
Collect annoying debris—including pine cones, acorns, stones, and more—in seconds.

Easy to use lawn care tool
Designed to fit any handheld leaf blower, Lawnch-It  allows you to effortlessly toggle between blowing and collecting.

Enjoy your backyard
Lawnch-it makes it easy to keep your lawn tidy so you can spend more time enjoying it.
5-STAR, STRESS-FREE LAWN CARE
Here's what Lawnch-It users have to say:
I bought this for my husband for his birthday. He loves it. Fits right in with his garden gadget collections.

Arlene V.
"I was ruining my grass by trying to get those annoying acorns out of my
lawn with a rake. Then I found the lawch-it"

Bob G.
"We were so tired of the acorns and pinecones littering our yard. We just
didn't know what to do. Thank you Lawnch-it!"

Susan M.
SMALL DEBRIS, BIG PROBLEM
Removing yard waste with traditional hand raking is back-breaking and time-intensive. Using a leaf blower alone to clean up small debris—branches, acorns, pinecones, fruit, stones, litter—only pushes it into piles that still need to be raked and picked up. Think that blows? Vacuuming this debris can damage your leaf blower—and that sucks even more.
LANDSCAPE IT? NO. LAWNCH-IT!
Collect lawn debris easily yourself with Lawnch-It, the cost-effective, patented attachment that fits any handheld* leaf blower.


✔️ Spend minutes—not hours—tidying your lawn.
✔️ Stop stepping on hard pinecones and acorns.
✔️ Get that landscaped look at a do-it-yourself price.
*Not recommended for backpack blowers.
BUY NOW 🛒
NEW SEASON, SAME PROBLEM: ANNOYING YARD DEBRIS.
It seems every autumn, our oak trees celebrate the season by dropping a bumper crop of acorns (aka, nature's glitter) all over our lawn. Instead of damaging the grass with hard raking, I use my leaf blower to get them into small piles. 
But every year, as I scooped acorns by hand (bend, scoop, ache, complain, repeat all afternoon), I dreamt of saving my time and just chopping the trees down.
Until a few years back, when it dawned on me…Why not blow the acorns into a collection bag attached to the leaf blower?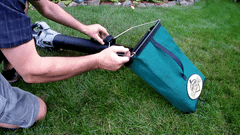 FROM DUCT TAPE AND A PRAYER TO A PATENTED GARDEN GADGET
After Macgyvering a prototype out of materials in my garage workshop, I duct taped it to my leaf blower and gave it a shot. It worked like a charm. With input from other lawn and garden aficionados, and more engineering, Lawnch-It evolved into our patented leaf blower accessory that shaves hours off your yard work.
BUY NOW 🛒